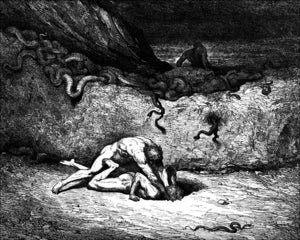 Admittedly, I am new to the Hell phenomenon. I was late on the boat for a number of reasons including the seemingly generic moniker. Respected members of the blog-sphere and close friends have been calling this band genius since Hell - I came out. To their credit, it was not hyperbole. I have wanted to purchase the back catalog, but it always seems something else comes up that I end up buying instead. This time, however, I jumped when I saw my chance. Pesanta put up the remaining copies of the Stella Natura test pressings, and I ordered without hesitation. I was very lucky that I did, as they sold out shortly thereafter.
At first listen I am completely blown away. The songs themselves are simple yet complex. Containing melodies that wrap themselves around your brain and refuse to let go. The space between notes is empty and void and necessary. When the heavy kicks in it crushes and melts your face simultaneously. This is perfection, I think. Everything I wan't and everything I need from music is here, revealing itself in widescreen, high definition analog. Darkness and beauty enmesh themselves in unwavering unity. My soul is raptured by total night.
When the cassette came up, I purchased that as well, obviously. Between the two copies, I must have listened to this album 60 or 70 times in two weeks. It holds up, believe me. I remain completely, in all senses of the phrase, blown away.
You can pick this up on cassette right now at
Eternal Warfare
. The vinyl release is forthcoming from Pesanta Urfolk records, so keep your eyes peeled. Do not miss this. You have been warned.