At the end of 2010 I heard, for the very first time, an album and band that has come to redefine my view on music. The band was Thou. The album Summit. Everything about that album was vital. Not only did I discover Thou, but a plethora of bands (And awesome people like Nick) as I branched out. Its been an incredible year for black metal and sludge. So, without further bullshit, here is my top 10 albums of 2011.
1.
Panopticon
- Social Disservices
Austin Lunn, flying very much under the radar, has created the most astonishing emotional outpouring ever seen in black metal. The entire package, from artwork to every aspect of the music, is a reflection of himself, and his view on the failings of social services in their dealings with youth. The music is absolute melancholy and rage. It manages to be immense, ethereal and concise. Everything from his vast array of influences coalesces into one powerful package. Album of the year by a long shot.
2.
Ash Borer
- S/T
Ash Borer
is blacker than the blackest of nights. Howling in the depths rarely conceived by human ears, comes this vicious apparition.
Ash Borer
is the sound of your head caving in and the ensuing silence. Hell is the beginning. This fire is ripe and your burning inevitable. Embrace your end.
3.
Midnight
- Satanic Royalty
I just received this album recently, but this will remain in my turntable for quite sometime. Black heavy metal with a punk snarl. This album is a filthy bitch and I love it. Rock out for Satan!
4.
Agoraphobic Nosebleed/ Despise You - And On and On...
And on and on...
was possibly the most anticipated split of this decade, and it delivered. Straightforward, brutal and extremely well put together. Both bands exemplify grindcore and punk rock to the core.
5.
Moloch
- Possession
Moloch
is another completely slept on band. This must be fixed. These are Sludgelords waiting in the wings. Eyehategod is an indisputable reference point, but these filthmongers take it forward. The samples add a darkness that scares the hot green piss out of anyone that hears. Be afraid and bang your fucking head in. See
Nick's review
for his thoughts.
6.
Barghest
- S/T
Barghest
is probably my most played album of the first half of the year. Short songs that never overstay their welcome, but pack everything you could possibly need. Black metal with a punk sensibility, that doesn't sound anything like Darkthrone.
Gilead Media
's finest moment this year.
7.
Blasphemophagher
- The III command of absolute chaos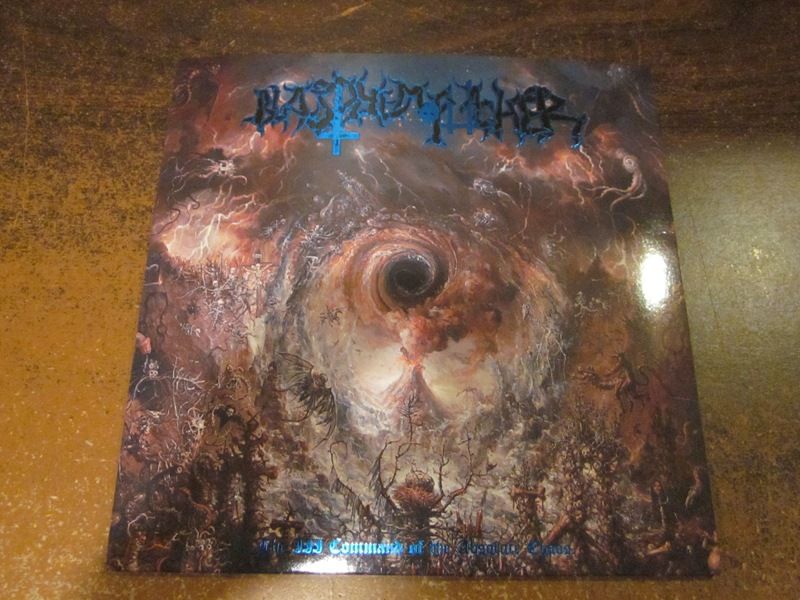 Absolute Armageddon. Immense black/death/thrash. The die hard vinyl package from
Nuclear War Now
is the sickest thing to arrive in my mailbox this year. See my
review
for my thoughts on this album.
8.
Engineer
- Crooked Voices
It was a lackluster year for hardcore to say the least. Engineer managed to take their live sound and focus it into a perfect vision. This is everything I could ever want in a hardcore album.
9.
Negative Plane
- Stained Glass Revelations
If there ever was a soundtrack to H.P. Lovecraft novels, this would be it. Somewhere in the unfathomable depths, the Cthulhu are rocking this hard.
10. Grime - Demo
Crushing sludge. See my
review
.
Honorable mentions -
Ensorcelor - Crucifage
Bosse De Nage - ii
Trap Them - Darker Handcraft
Thou - To The Chaos Wizard Youth/Big City
Void Meditation Cult - Sulfrous Prayers
Young And In The Way - V: Eternal Depression
Owen Hart - Earth Control
Peste Noire - L'Ordure A l'etat Pur
Mutilation Rites/Batillus - Split
Lycus - Demo